Adara
Adara
| | |
| --- | --- |
| Brand: | AQIRYS |
| Product Code: | AQRYS_ADARA |
| Availability: | In Stock |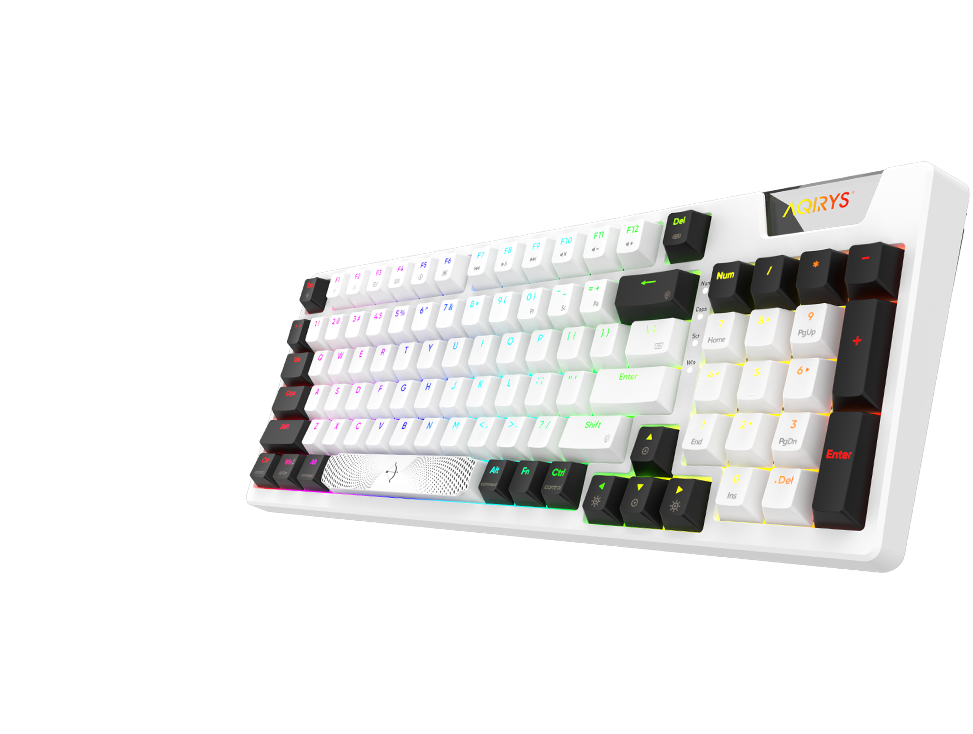 DISCOVER ALUDRA TKL
Engineered for silence, smoothness, and future to deliver to you a truly premium and customizable gaming experience, we proudly introduce ADARA, the newest addition to our keyboard lineup.
Named after the brightest star in ultraviolet light, ADARA fuses in a versatile compact form factor, the latest features and innovations in mechanical keyboard design with customized switches from the new kid on the block in the high-end switches arena.
#SOLID PRECISION
At your fingertips, you will find precision delivered by factory pre-lubed HaiMu 5-pin mechanical switches warranting 100 million keystrokes consistent gaming experience. The customized Pink version installed on ADARA offers a smooth linear key press and a quiet sound level, having an operating travel of 2 mm and 45 gF actuation force.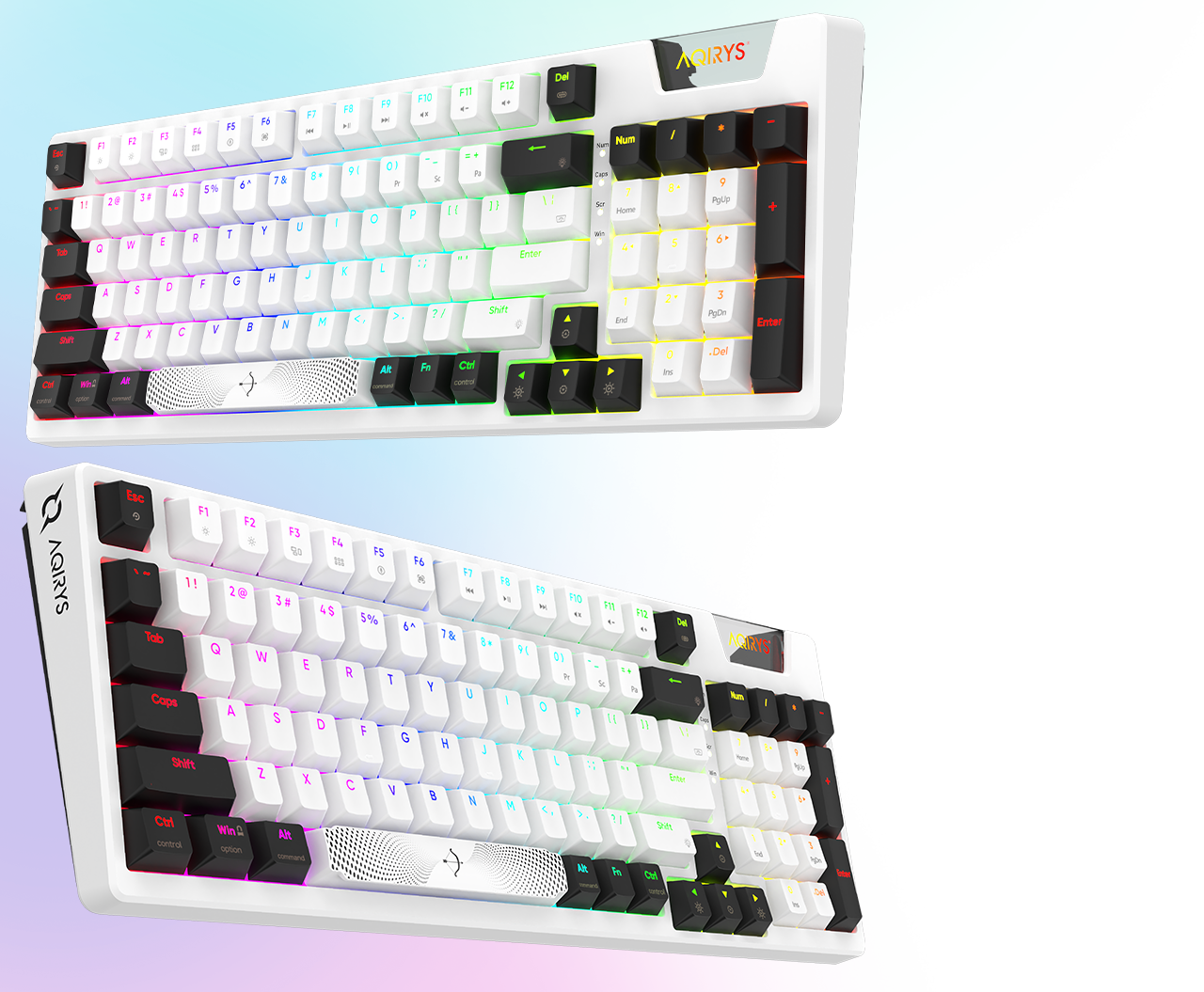 #SMOOTH EXPERIENCE

Besides factory pre-lubed switches, ADARA is also rigged with pre-lubed plate-mounted stabilizers to smooth out the typing experience by effectively reducing noise, spring pings, and evening out large-key pressing (like the Spacebar).
Featuring the new Gasket-Mounted keyboard design, ADARA has an elaborate internal architecture - decoupled mounting of the switch-plate using silicone gaskets, PCB silencer & anti-vibration silicone pad, bottom EVA foam for noise-dampening - specially created to achieve a smooth keystroke without noise and vibration, and without changing the tactile response or affecting the stability of the switch. All contribute to achieving the same exceptional feel you can only find on ultra-high-end custom-built keyboards.
On the outside, the resilient lightweight chassis is complemented by double-shot PBT keycaps engineered for durability, precision, and improved tactility to match or exceed any lifetime of the mechanical switches they sit over.
Inside Bonus – ADARA also comes with a multi-tool brush so that you can take care of it with all the thoroughness it deserves!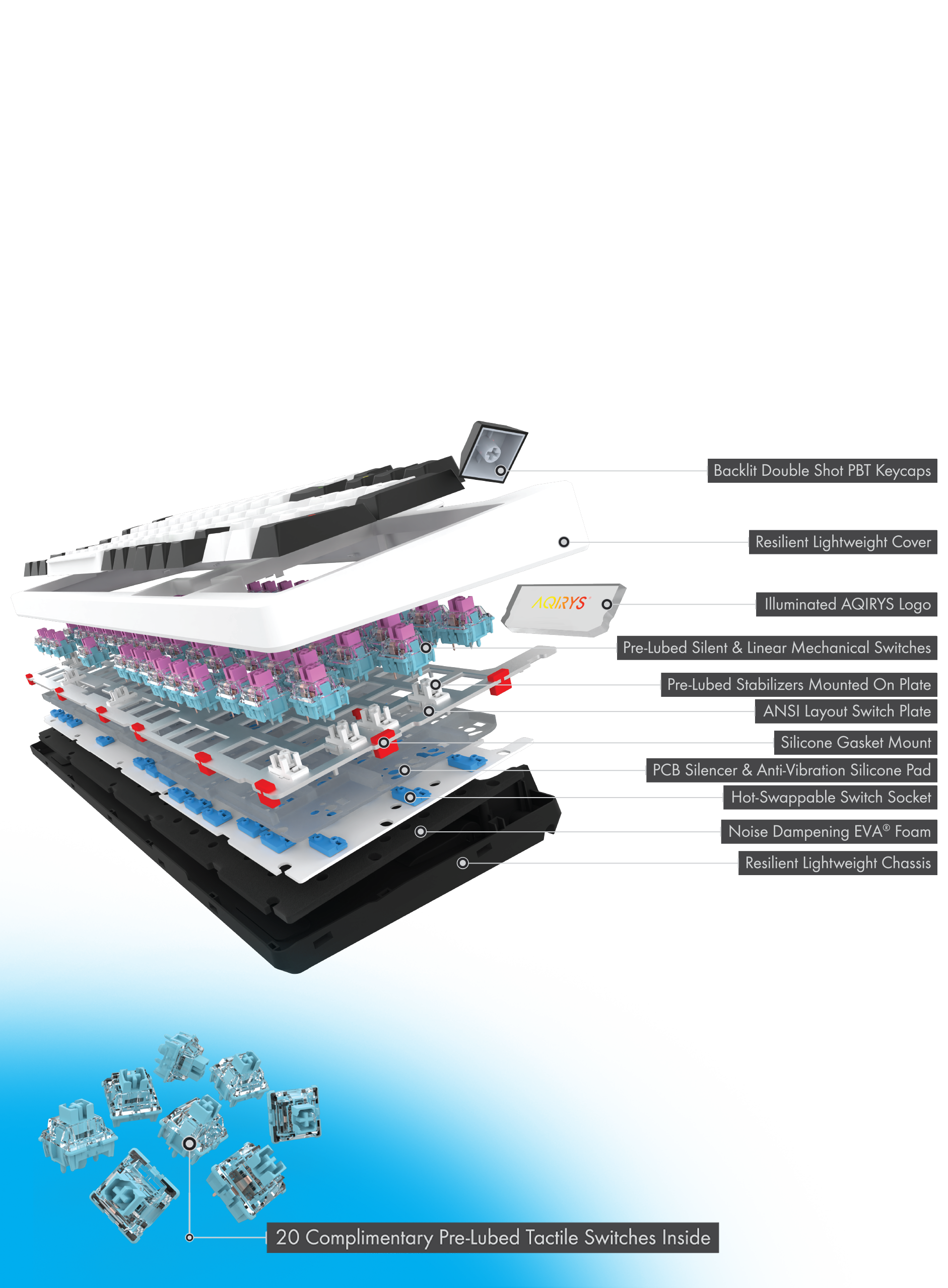 #FAST ERGONOMICS

Preferred by e-sport professionals, a compact layout not only saves desk space but also improves ergonomics for intense gaming sessions by keeping the hands closer and enabling ample quicker mouse movements. With ADARA's 1800 compact form factor and 95-key layout, you can enjoy the same space-saving benefits of the TKL design and unleash your mouse swipes while preserving the convenience of the Numpad.
Furthermore, a three-stage height adjustment system puts the wrists at your optimum tilt angle for fast typing (flat, half, and full extension). Plus, our AQIRYS-designed spacebar is guaranteed to be a thumb-pleaser every time you press it – in fact, we're ready to bet that you'll love it so much that you'll press it faster and more often than any other spacebar before!
Using a detachable USB-C aviator-style braided cable boosts aesthetics, durability, and mobility making it easier to take the keyboard to gaming tournaments; also, three built-in channels under the keyboard allow using and routing of your classic USB-C cable.
#ELEMENTAL CUSTOMIZATION
Make it yours! – future switch replacement and customization with exotic models is possible due to the hot-swap keyboard design (universal compatibility with 3 and 5-pin switches). To get a taste of it, the package includes 20 complimentary pre-lubed customized HaiMu Ocean Blue Tactile switches to use on any set of keys you wish.
We've also included an additional slim-profile spacebar for those who prefer a different style.
And since we don't fancy bland stuff much, ADARA has a two keycap-color scheme, so you can have fun using a high-performance gaming keyboard that stands out from the pack.
Lastly, a full-RGB dynamic illumination system fires up our cool transparent logo and the PBT keycaps with on-the-fly adjustable visual effects; of course, the intuitive AQIRYS software provides access to advanced configuration options, including per-key illumination customization.
FUN FACTS

If people could see in ultraviolet light, Adhara (sometimes spelled Adara) would be the brightest star in the sky. When taking that band of light into account, the star is about 22300 times more luminous than the sun.
Keyboard Specification
Keyboard type
Mechanical
Keyboard size
1800 Compact
Switch Type
HaiMu Linear Pink (Hot-Swappable)
Switch rating
100 million clicks
Switch feedback
Linear
Switch travel
1.5 - 2mm
Switch force
45 gF
Anti-Ghosting
100% (N-Key rollover)
Number of keys
95
Multimedia functions
Yes
On-board memory
Yes
Layout
US
Illumination
Dynamic Per-Key RGB
Connectivity
Wired
Cable type
Detachable USB Type-C, coiled braided, aviator-style
Cable Length
2 m
Software
Yes (Windows 7 and up)
Platform
PC/Mac & Consoles
Size
386.54 x 139.92 x 44.7 mm
Weight
880 g
Color
White
EAN
5949161381427
Tags: Adara