T.G.A.
T.G.A.
| | |
| --- | --- |
| Brand: | AQIRYS |
| Product Code: | AQRYS_TGA |
| Availability: | In Stock |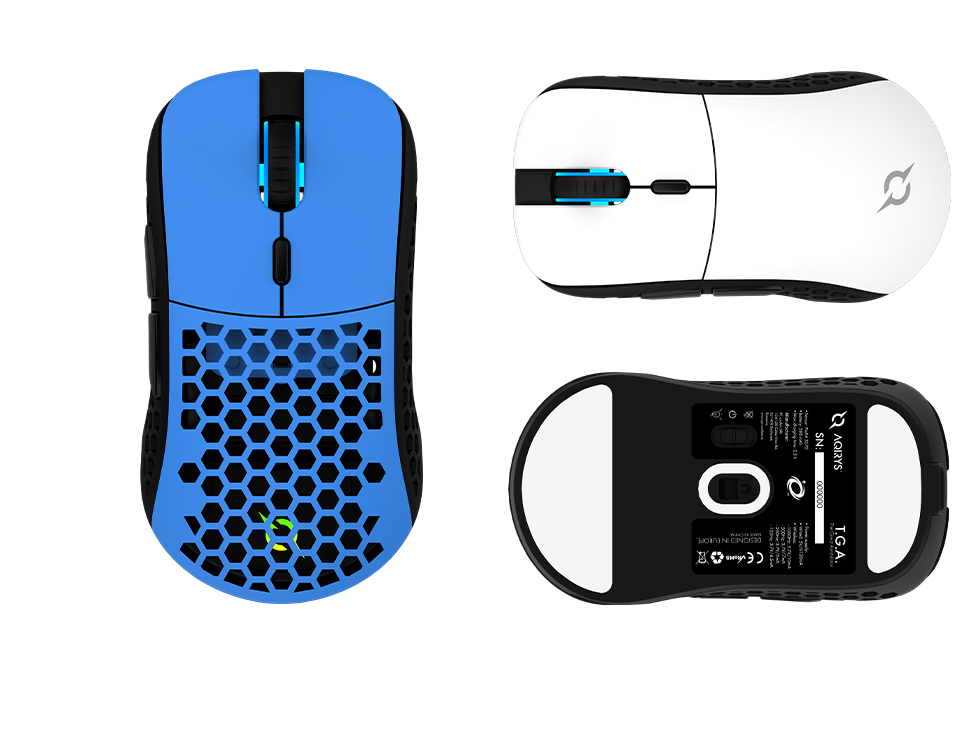 DISCOVER The Great Annihilator
Prologue

Continuing expansion, the AQIRYS universe is entering its third stage. If our cases impersonated the big bang, and let you SEE a new gaming universe unfolding, followed by the headsets that enabled HEARING it, now the time has come for you to ultimately FEEL it! Aiming to deliver you a complete gaming experience, we proudly introduce our gaming mice and mats, and we welcome you to the feel of AQIRYS!
Named after one of the rarest objects in space, a microquasar consisting of a black hole and a low mass companion star, the GREAT ANNIHILATOR mouse (aka T.G.A.) packs an impressive array of features in a lightweight right-handed ergonomic package to give you next-gen precision and comfort to shatter the competition.

#SOLID PRECISION
At its core, T.G.A. embeds a state-of-the-art optical sensor engineered by the world's leading manufacturer, sporting 19000 dpi of next-gen optical precision and delivering the resolution, speed, and accuracy required for Pro-level gaming performance!Latest gaming-grade 2.4 GHz wireless technology lets you unleash your skills with no delay at 1000 Hz polling rate, 1 ms response time, thanks to stable and reliable data transmission in all gaming environments.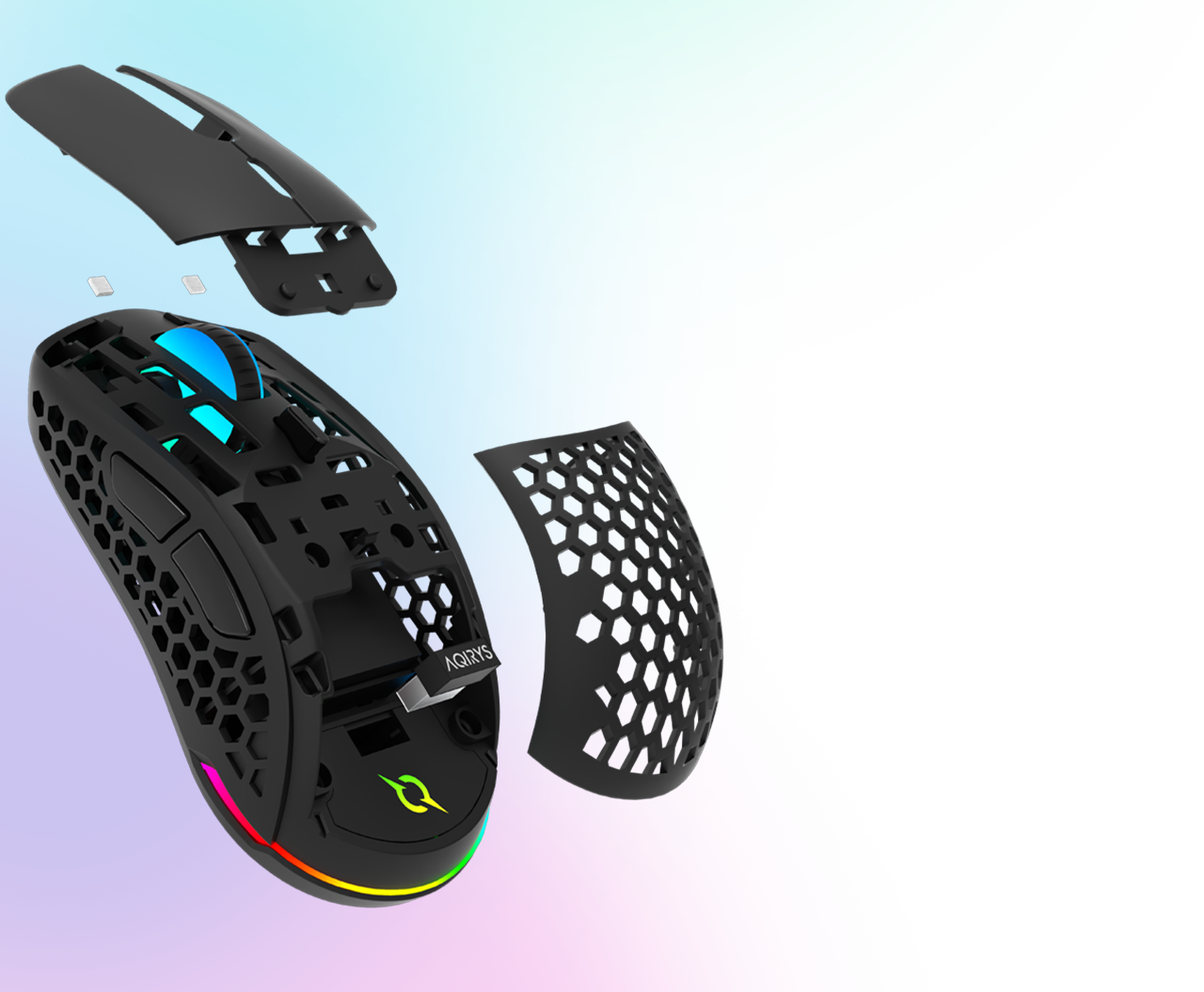 #SMOOTH EXPERIENCE

Built entirely from premium quality elements, like water-splash-proof PCB to protect from mishaps or 80M clicks rated KAILH mechanical switches for long-lasting button performance, T.G.A. is ready to withstand a lifetime of using and abusing. Complementary, the modular chassis made of precision injection molding parts preserves the mouse appearance after heavy use. The detachable palm rest allows quick and easy cleaning, so keeping the mouse in top shape is a no-brainer.Top that with the included extension adapter so you can seamlessly switch between wireless and wired (charging) for non-stop gaming action.
#FAST ERGONOMICS

Lightweight is smooth, smooth is fast! The low weight of T.G.A. - only 76 grams, coupled with an all-grip symmetric right-handed design reduces wrist-load, allowing hyper-fast and precise mouse movements. The honeycomb-style chassis not only shaves off a few grams but also delivers superb comfort for intense gaming sessions avoiding sweat buildup by enhancing its evaporation. All is doubled-down by our ultra-soft detachable USB paracord and the large PTFE skates, both enabling unrestricted glides even on extra-large mousepads when in wired mode.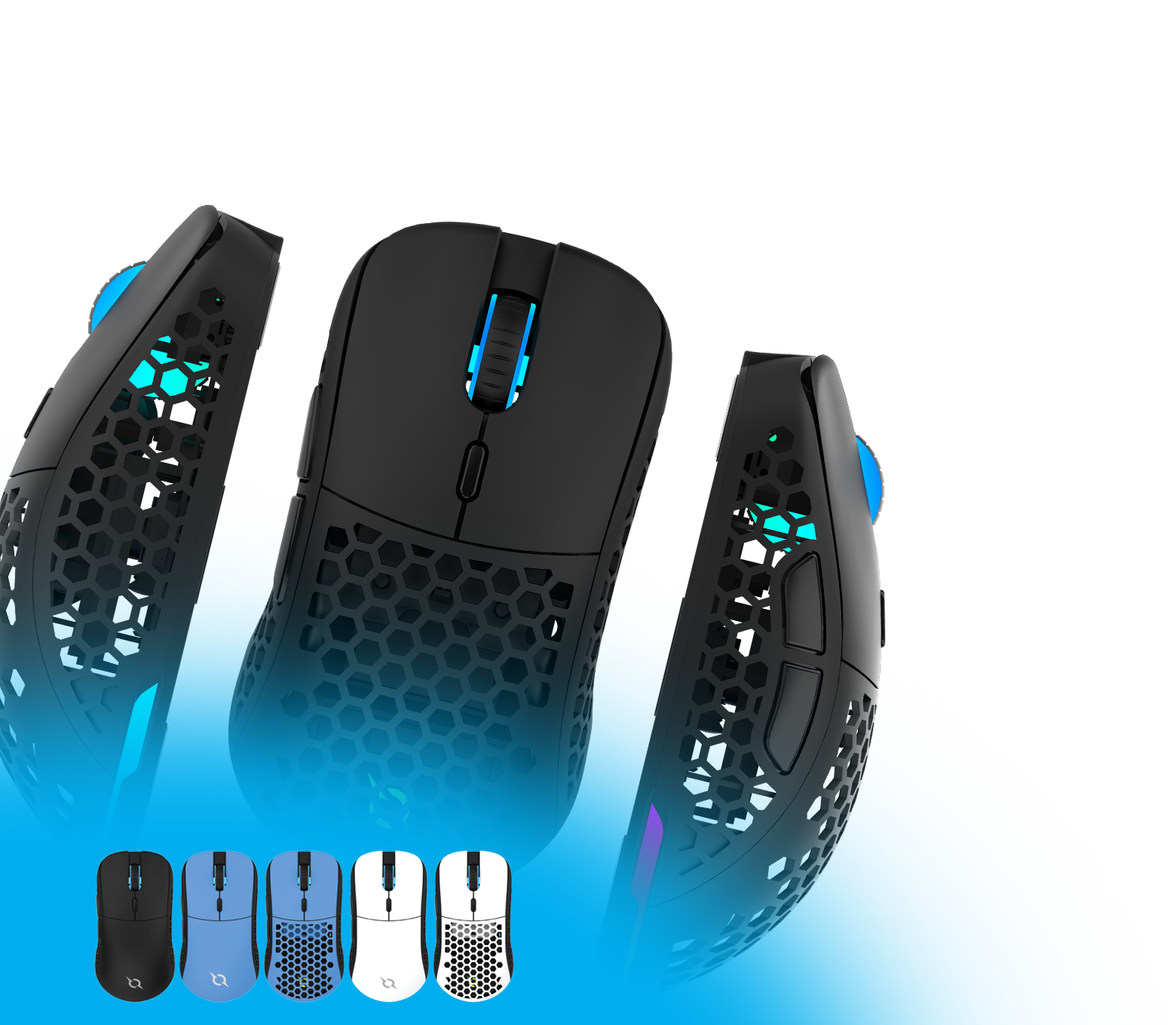 #ELEMENTAL CUSTOMIZATION
Make it yours! - this is not an overstatement given the remarkable customization possibilities of T.G.A. that come as a standard. From the inside to the outside, you are free to adjust the mouse click softness, look and comfort to your preferences. A 16-piece set of spacers with different thicknesses let you fine-tune the L/R click feedback from a crispier, more tactile to a lighter, softer one. The included multiple swappable covers for both main buttons and palm rest are fuel for your imagination to overhaul T.G.A.'s appearance. Comfort-wise, when the stakes get high, the side and main buttons add-on grips can enforce a more secure mouse hold. A full-RGB dynamic illumination system sparks life into T.G.A.'s looks, and the AQIRYS intuitive mouse software allows in-depth customization. Lastly, onboard memory is there to assist with rapid and easy storage of personal settings, so you can game freely, wherever you may roam.
FUN FACTS
The Great Annihilator is estimated to be around 16300 light years from us. The reason behind its naming is that astronomers suspected a lot of matter-antimatter annihilation due to the large quantities of high energy photon pairs.
Mouse Specification
Sensor
Optical, PixArt 3370
Sensitivity
19000 DPI
Polling rate
1000 MHz
Max. tracking speed
400 IPS
Acceleration
50G
Hardware acceleration
No
Shape
Symmetric, Right-handed
Number of Buttons
6
Programmable Buttons
Yes
Switch Type
Kailh, rated for 80M clicks
On-board memory
Yes
Illumination
RGB
Connectivity
Dual-mode - Wireless 2.4GHz, Wired
Interface
USB 2.0
Battery
580mA / max charging time: 2.5h
Battery Life
Up to 50 hours continuous Gaming Time
Operating distance
10m
Cable type
Ultra-light, braided
Cable Length
1.8 m
Software
Yes (Windows 7 and up)
Platform
PC & Mac
Size
120 x 63.5 x 39 mm
Weight
76 g (Without cable)
Color
Black
EAN
5949161380994
Tags: T.G.A.