Mira
Mira
| | |
| --- | --- |
| Brand: | AQIRYS |
| Product Code: | AQRYS_MIRABK |
| Availability: | Out Of Stock |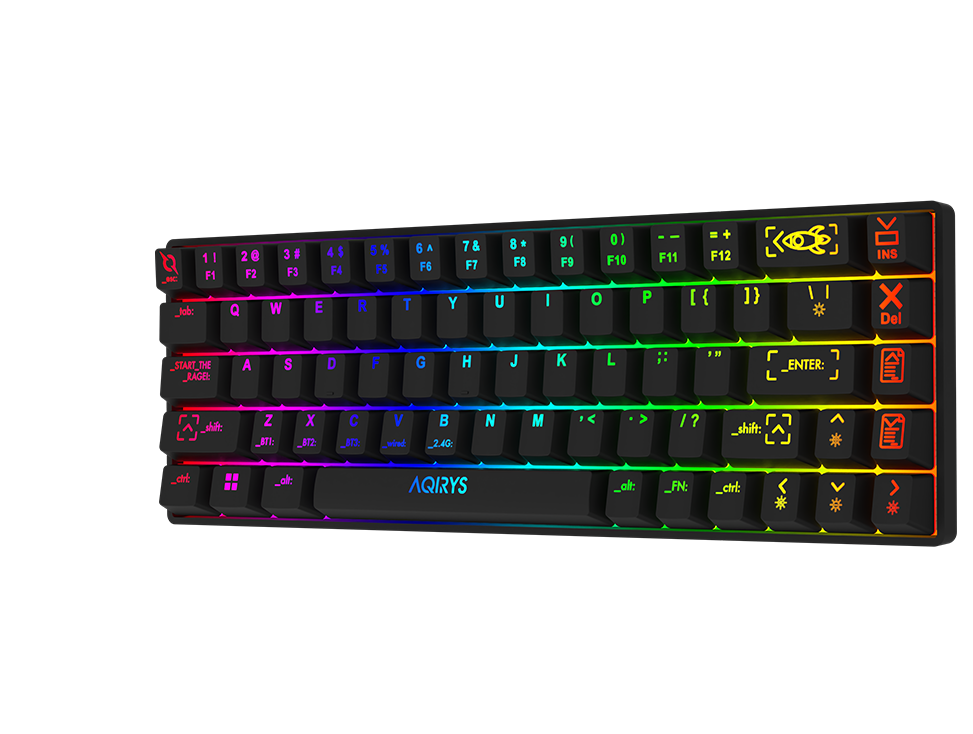 DISCOVER MIRA
Prologue
Continuing expansion, the AQIRYS universe is entering its third stage. If our cases impersonated the big bang, and let you SEE a new gaming universe unfolding, followed by the headsets that enabled HEARING it, now the time has come for you to ultimately FEEL it!Aiming to deliver you a complete gaming experience, we come full circle and introduce our gaming keyboards to join the mice and mats, and we welcome you to the feel of AQIRYS!
Named after a red-giant star located in the Cetus constellation, the MIRA keyboard represents our most compact form factor yet. Sometimes called the constellation's necklace, MIRA is the ideal centerpiece for a streamlined, minimalist gaming setup while boasting 3-way connectivity with two wireless options (counting for up to four connected devices) and a wired mode.

#SOLID PRECISION
At your fingertips, you will find precision delivered by mechanical switches engineered for gaming and office. The Red version carried by MIRA is a good choice for those who have a lighter touch and require fast movements, making it easier to type fast and move characters around more quickly. It sports linear behavior and a quiet sound level, with a travel distance of 4 mm and 47 gF actuation force.Having the keyboard sync even with the fastest gameplay is of paramount importance, so an N-key rollover special circuitry watches that no critical command is lost, making MIRA full anti-ghosting capable.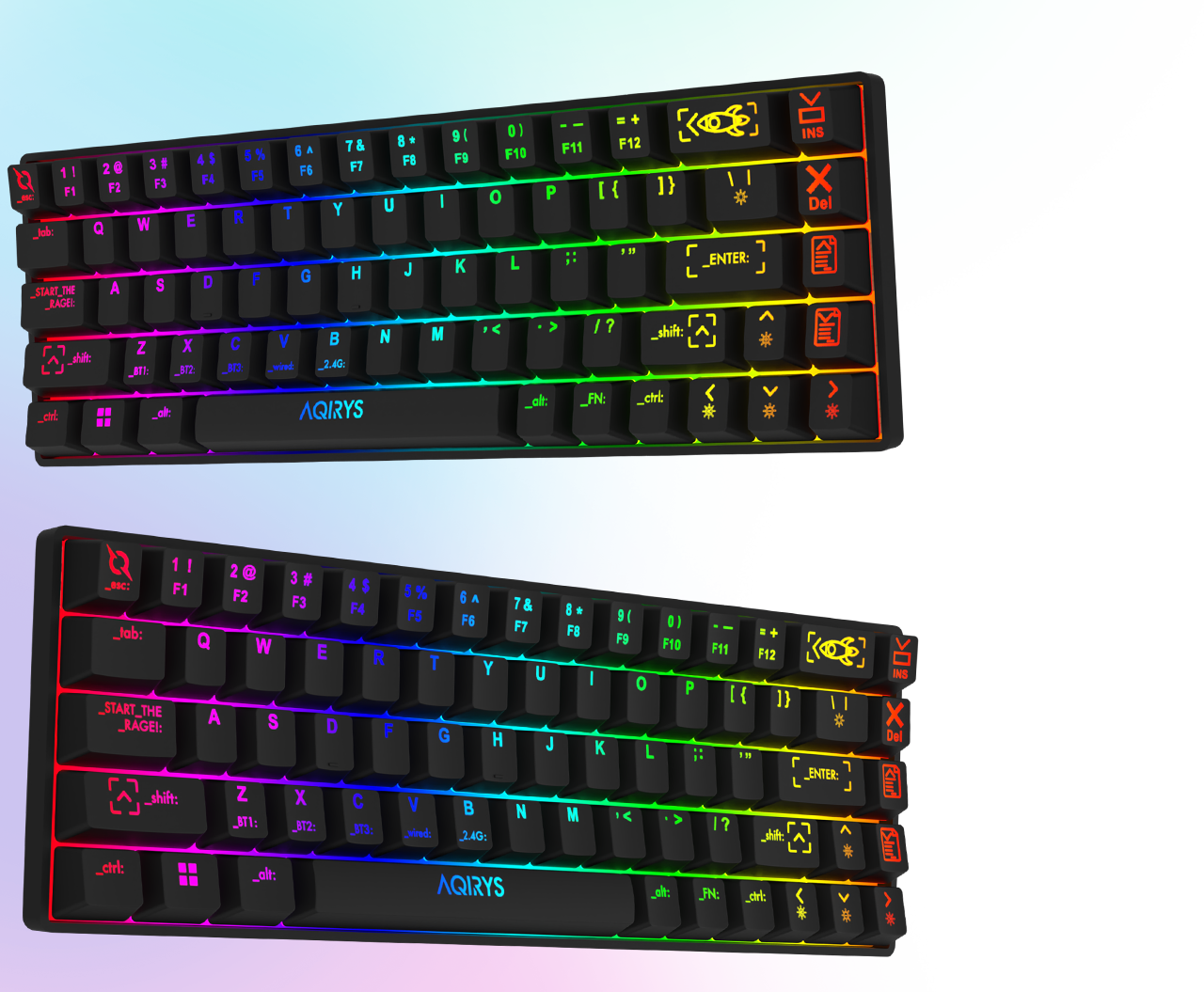 #SMOOTH EXPERIENCE

MIRWith MIRA, you can enjoy extensive PC, Mac, mobile connectivity thanks to the two embedded wireless options (2.4 GHz and BT) plus the wired mode. The BT connection allows pairing MIRA with up to three different BT-enabled devices and seamlessly switching between them.Aiming to offer premium comfort and feel, no matter the environment, MIRA uses a chassis with a special rubber coating, while the surface of the keycaps is sweat-proof. We took a step further by inserting a sound-dampening foam that alleviates vibrations and noise generated by multiple, rapid keystrokes. And, this brings us to the chosen mechanical switch, the 50M keystrokes rated Outemu red, that guarantees long-lasting performance for a lifetime of using and abusing.
#FAST ERGONOMICS

Adhering to the 65% gaming keyboard form-factor, the compact dimensions of MIRA save tons of space and boost portability, also improving ergonomics by keeping the hands closer and freeing real-estate for ampler mouse movements.Lastly, the detachable USB cable makes it easier to charge and carry the keyboard in your gaming endeavors.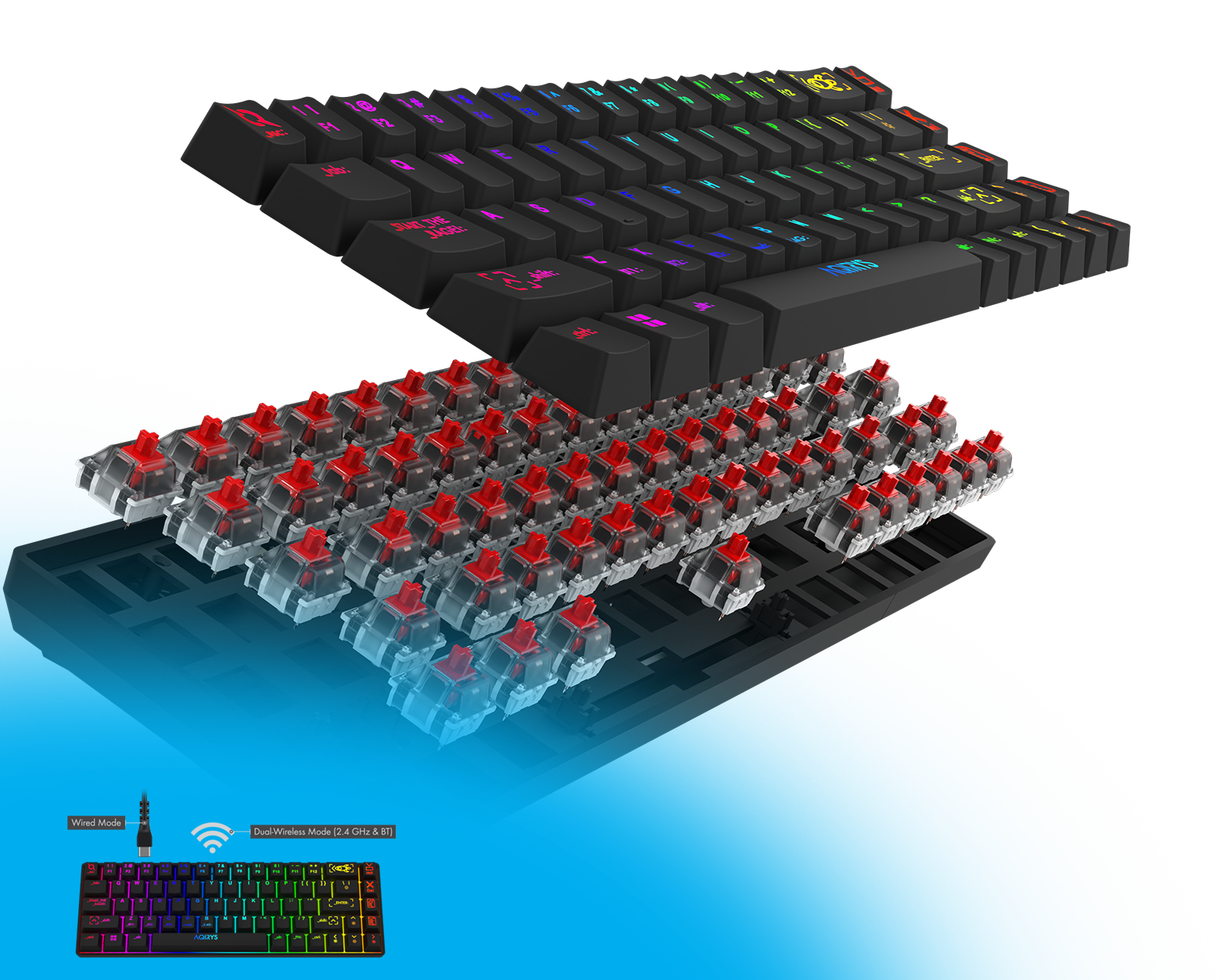 #ELEMENTAL CUSTOMIZATION
Make it yours! – future switch replacement and customization with exotic models is possible due to the hot-swap keyboard design (compatible with Outemu 3-pin switches).
A full-RGB dynamic illumination system sparks life into MIRA's looks, and the AQIRYS intuitive keyboard software allows in-depth customization when using the keyboard in wired mode. When connected via wireless, you can extend the battery lifetime from 8 hours to 35 days by turning the illumination off.And since we don't fancy bland stuff much, MIRA is showing off our exclusive and unique layout design so you can have fun using a high-performance gaming keyboard that stands out from the pack.
FUN FACTS

Mira's variable brightness was noted first by the German pastor and amateur astronomer David Fabricius, who started watching the star on August 3, 1596. Fabricius observed the planet Jupiter believing that it was Mercury, and used the third-magnitude Mira as a reference star to compare positions. Several weeks later, the star became a magnitude brighter and then faded from view by October. At the time, Fabricius thought he had stumbled upon a nova. However, the star soon reappeared, and he saw it again on February 16, 1609.
The name Mira is Latin for "astonishing" or "wonderful." and was given by the Polish astronomer Johannes Hevelius in his Historiola Mirae Stellae (1662).
Keyboard Specification
Keyboard type
Mechanical
Keyboard size
65%
Switch Type
Outemu Red
Switch rating
50 million clicks
Switch feedback
Linear
Switch travel
4 mm
Switch force
47 gF
Anti-Ghosting
100% (N-Key rollover)
Number of keys
68
Multimedia functions
Yes
On-board memory
Yes
Layout
US
Illumination
Dynamic Per-Key RGB
Connectivity
Dual-mode - Wireless: 2.4GHz & BT, Wired
Cable type
Detachable, braided
Cable Length
1.8 m
Interface
USB 2.0
Battery
1300mA / max charging time: 7h
Battery Life
Up to 8 hours (light on), up to 35 days (light off
Operating distance
10m
Software
Yes (Windows 7 and up)
Platform
PC/Mac & Consoles
Size
308 x 101 x 39 mm
Weight
556g
Color
Black
EAN
5949161381229
Tags: Mira