Aquilla
Aquilla
| | |
| --- | --- |
| Brand: | AQIRYS |
| Product Code: | AQRYS_AQUILLA |
| Availability: | In Stock |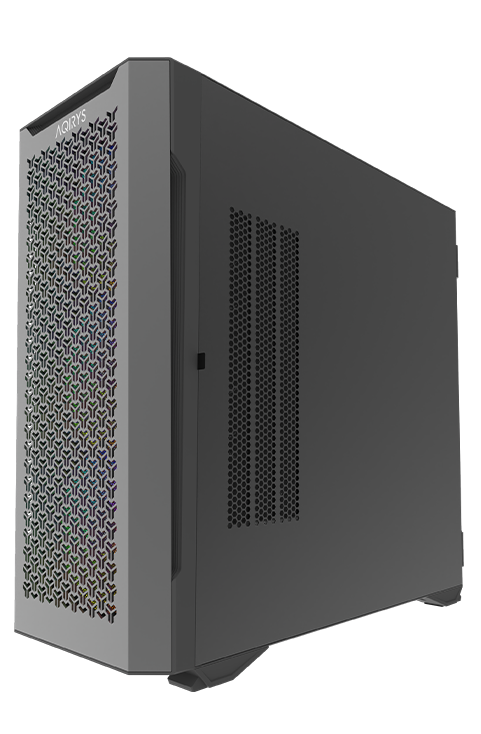 DISCOVER AQUILLA

Inspired by the constellation representing the eagle of the god Jupiter in Roman mythology, we introduce the AQUILLA case to deliver you elegant features to set up a stately gaming PC both in performance and appearance.

The panoramic side panel of AQUILLA, made of light grey tinted tempered glass, is mounted with hinges granting seamless and unrestricted access to your hardware. The metallic front panel has a reinterpreted mesh design that accentuates the modern take and is brought to life by three 140 mm ARGB illuminated fans.
LIGHT-INFUSED AIRFLOW

All four 140 mm fans pre-installed in AQUILLA use ARGB lighting and create massive airflow to cool even the most demanding hardware. The dual air-intake design can help bring more fresh air inside the case by installing two 120 mm fans on the right-side panel. You can further boost the cooling performance by adding three 120 mm (or two 140 mm) extra fans at the top of the case.
Matching or syncing the case illumination with the rest of the hardware can be done due to the included PWM+ARGB hub controller operated by a dedicated LED button and a wireless remote. The same controller and remote will help you adjust the fan speed when needed.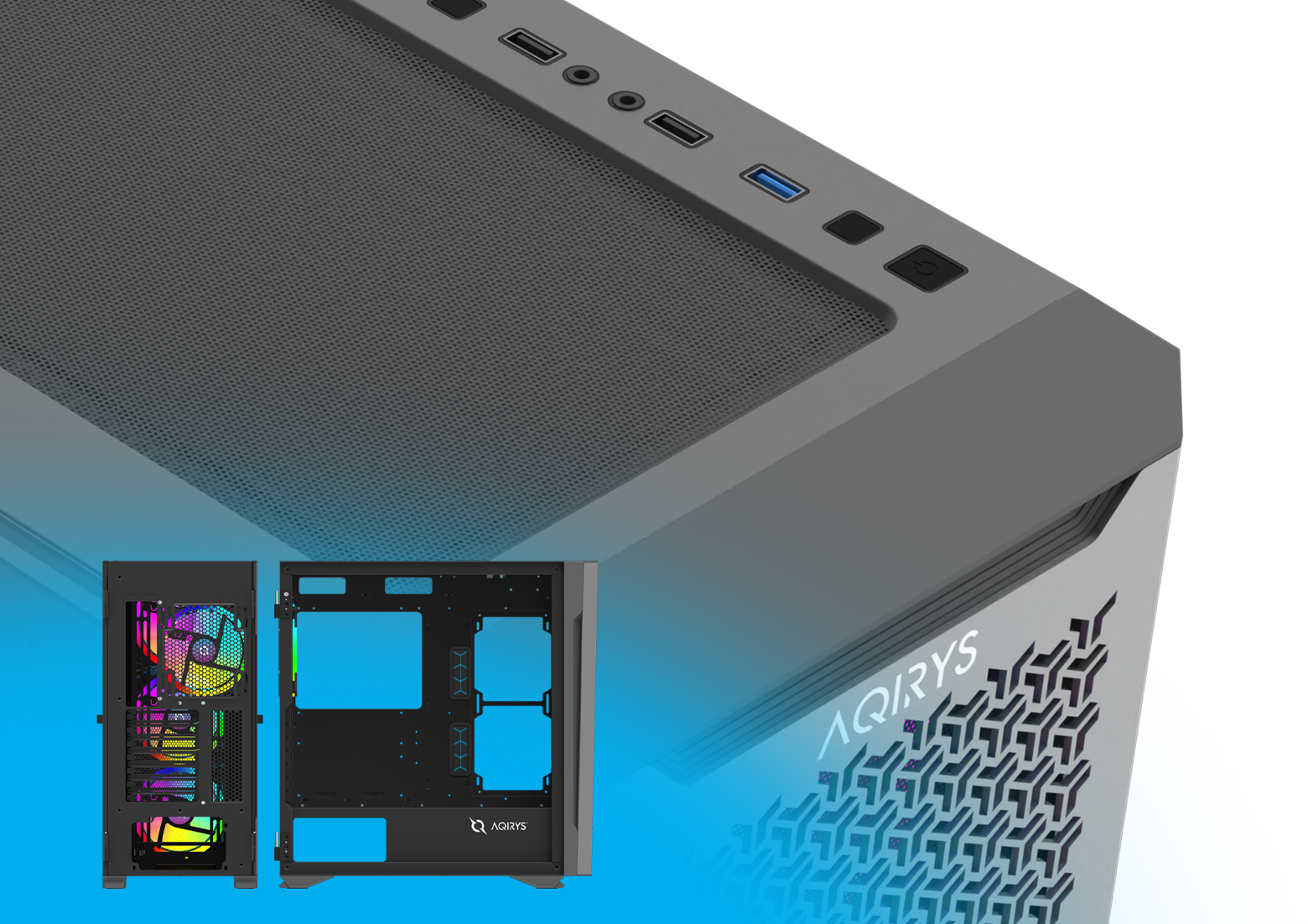 FULL-FLEDGED INTERIOR
The vast interior of AQUILLA (accessible on the fly due to hinged left and right side panels) is dust-guarded by two magnetic filters placed on top and the right-side panel inner. It can shelter an impressive range of next-gen components like EATX motherboards, 395 mm long graphics cards, and 170 mm height CPU coolers.The dedicated chamber for bottom PSU installation includes a removable dust filter and helps to reduce noise and vibrations by incorporating two anti-vibration rubber pads.
Furthermore, the water cooling support is second to none, with ample space to install even 420 mm radiators in the front and 360 mm radiators on top of the case for unlimited gaming performance.Lastly, four specific outlets and the integrated cable management system on the back of the motherboard tray ensure everything is kept neat and clean with no bulk of wires in your sight.
FUN FACTS

The ANTARES star is 700 times the sun's diameter, large enough to engulf the orbit of Mars if the solar system were centered on it. The lunar lander on the Apollo 14 moon mission also borrowed its name from ANTARES.
Case Specification
Case type
Midi Tower
Materials
Tempered Glass with hinge(left side panel), 0.9 mm SPCC steel, ABS, Metal mesh
Motherboard support
Mini-ITX, Micro-ATX, ATX, E-ATX
PSU support
ATX, 175 mm maximum length (bottom installation)
VGA support
395 mm maximum length *270 mm with side fans/AIO installed
CPU cooler support
170 mm maximum height
Liquid cooling support
Yes, Front mount - 120/240/280/360/420*, Rear mount - 120mm, Top panel - 120/240/280/360*, Side panel - 120/240mm * (*slim radiators max 35mm thickness)
Drive bays
2x 3.5", 2x 2.5"
Expansion slots
7
Front panel I/O
1x USB 3.0, 2x USB 2.0, HD Audio, LED button
Illumination
ARGB (included ARGB hub controller & RF remote)
Supported fans
9 pieces - Rear 1x 120/140 mm, Front 3x 120/140 mm, Top 3x 120/2x 140 mm, Side 2x 120mm
Installed fans
4 pieces - Rear 1x 140 mm (RGB, no PWM), Front 3x 140 mm (RGB, no PWM)
Special features
removable front panel, removable magnetic dust filter, PSU chamber, cable management outlets
Dimensions (LxWxH)
479 x 233 x 493 mm
Weight
9750 g
Color
Black
EAN
5949161380789
Tags: Aquilla