Bellatrix
Bellatrix
| | |
| --- | --- |
| Brand: | AQIRYS |
| Product Code: | AQRYS_BELLATRIX |
| Availability: | Out Of Stock |
DISCOVER BELLATRIX

Carrying the name of the star that marks one of the shoulders of Orion constellation (the Hunter), the BELLATRIX PRO case showcases the perfect blend of features in a small form factor that's ready to take on the burden of any high-end gaming PC.

The extensive light-grey tinted acrylic side panel of BELLATRIX unveils the inners of your gaming rig, while the front panel crafted from the same acrylic is stunningly rounded-up by two Rainbow fans.
LIGHT-INFUSED AIRFLOW

All three pre-installed fans in BELLATRIX (two 120 mm, and one 80 mm) use Rainbow lighting and can set in motion the right amount of airflow required to cool a wide range of hardware.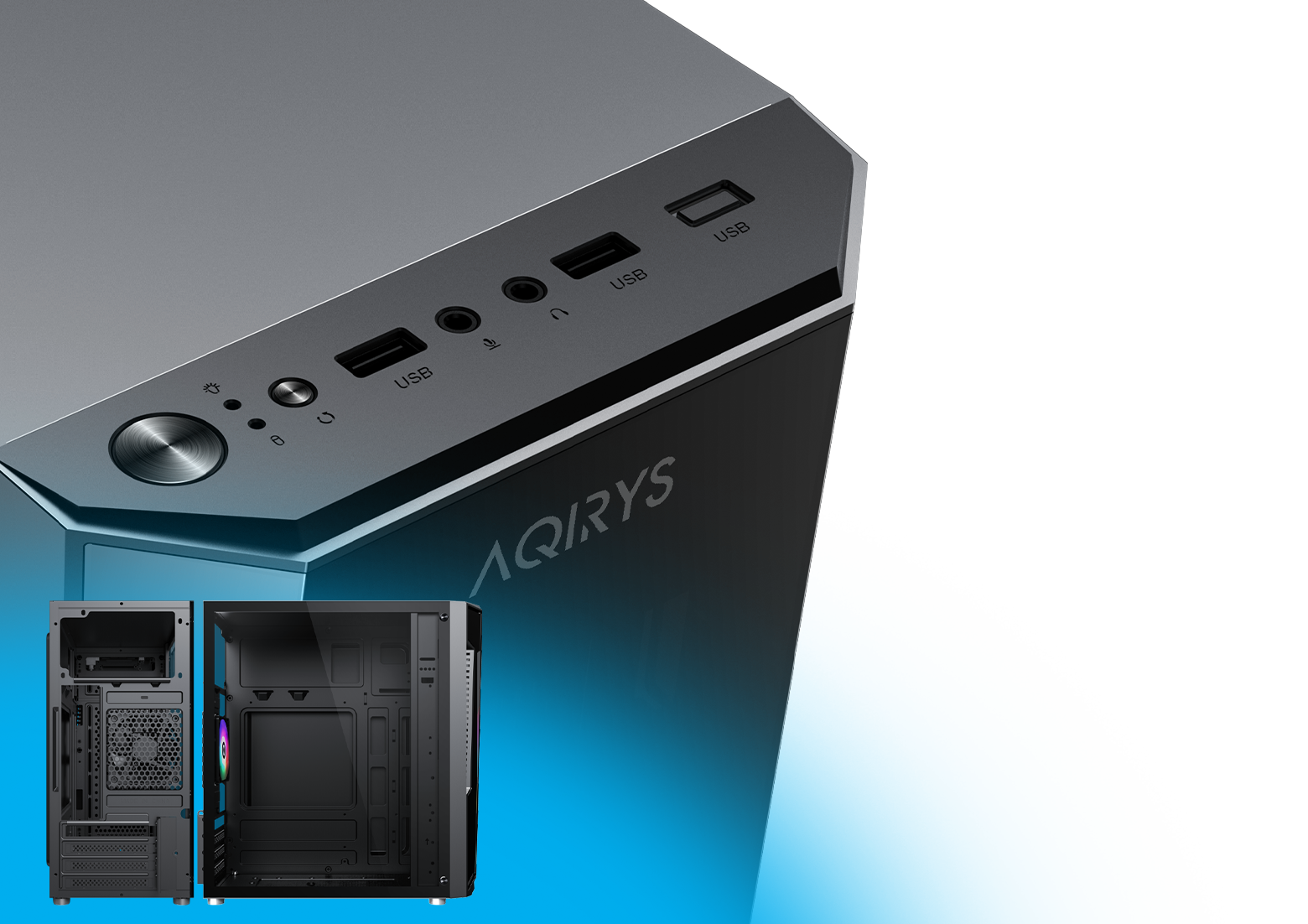 SIZED-DOWN, BUT NEVER JAM-PACKED
The smaller, all-black interior of BELLATRIX is ready to house the latest hardware, ranging from mATX motherboards and 280 mm long graphics cards to 160 mm height CPU coolers.
The upper-bottom mounting style of the PSU and storage devices is very well complemented by the multiple cable management outlets, so everything can be kept neat and clean, avoiding any hot air pockets.

FUN FACTS

The BELLATRIX name comes from the Latin bellātrix, which means Female warrior. BELLATRIX's name is also very popular in works of fiction, being featured in the 1968 film Planet of the Apes, and the Harry Potter series (1997-2007) by J.K. Rowling. The star may also have been referenced as the "shoulder of Orion" in the "Tears in the rain" monologue in Blade Runner (1982), but it is uncertain if the dying replicant meant the left shoulder (Bellatrix) or the right (Betelgeuse).
Case Specification
Case type
Mini Tower
Materials
Acrylic (front and left side panels), 0.4 mm SPCC steel, ABS
Motherboard support
Mini-ITX, Micro-ATX
PSU support
ATX, 175 mm maximum length (bottom installation)
VGA support
280 mm maximum length
CPU cooler support
140 mm maximum height
Liquid cooling support
No
Drive bays
2x 3.5", 1x 2.5"
Expansion slots
4
Front panel I/O
2x USB 2.0, HD Audio
Illumination
Rainbow
Supported fans
3 pieces - Rear 1x 80 mm, Front 2x 120 mm
Installed fans
3 pieces - Rear 1x 80 mm (Rainbow, no PWM), Front 2x 120 mm (Rainbow, no PWM)
Special features
cable management outlets
Dimensions (LxWxH)
325 x 170 x 358 mm
Weight
2500 g
Color
Black
EAN
5949161380024
Tags: Bellatrix