Betelgeuse
Betelgeuse
| | |
| --- | --- |
| Brand: | AQIRYS |
| Product Code: | AQRYS_BETELGEUSE |
| Availability: | In Stock |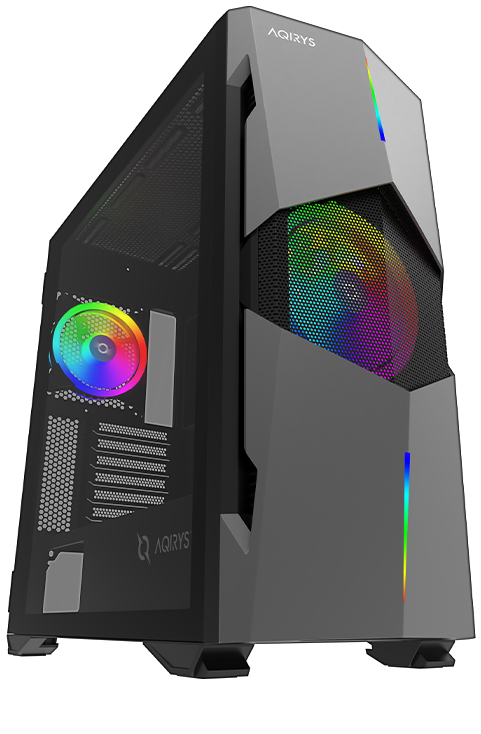 DISCOVER BETELGEUSE

Inspired by one of the most famous stars among amateur astronomers due to its size and brightness, we introduce the BETELGEUSE case, which offers you superb features to craft a gaming PC with a futuristic touch.
The panoramic side panel of BETELGEUSE is not only made of light grey tinted tempered glass, but it is also mounted with hinges granting seamless and unrestricted access to your hardware. The ultramodern take is heavily emphasized by the front panel design, with a center opening for air intake circumscribed by two ARGB LED strips.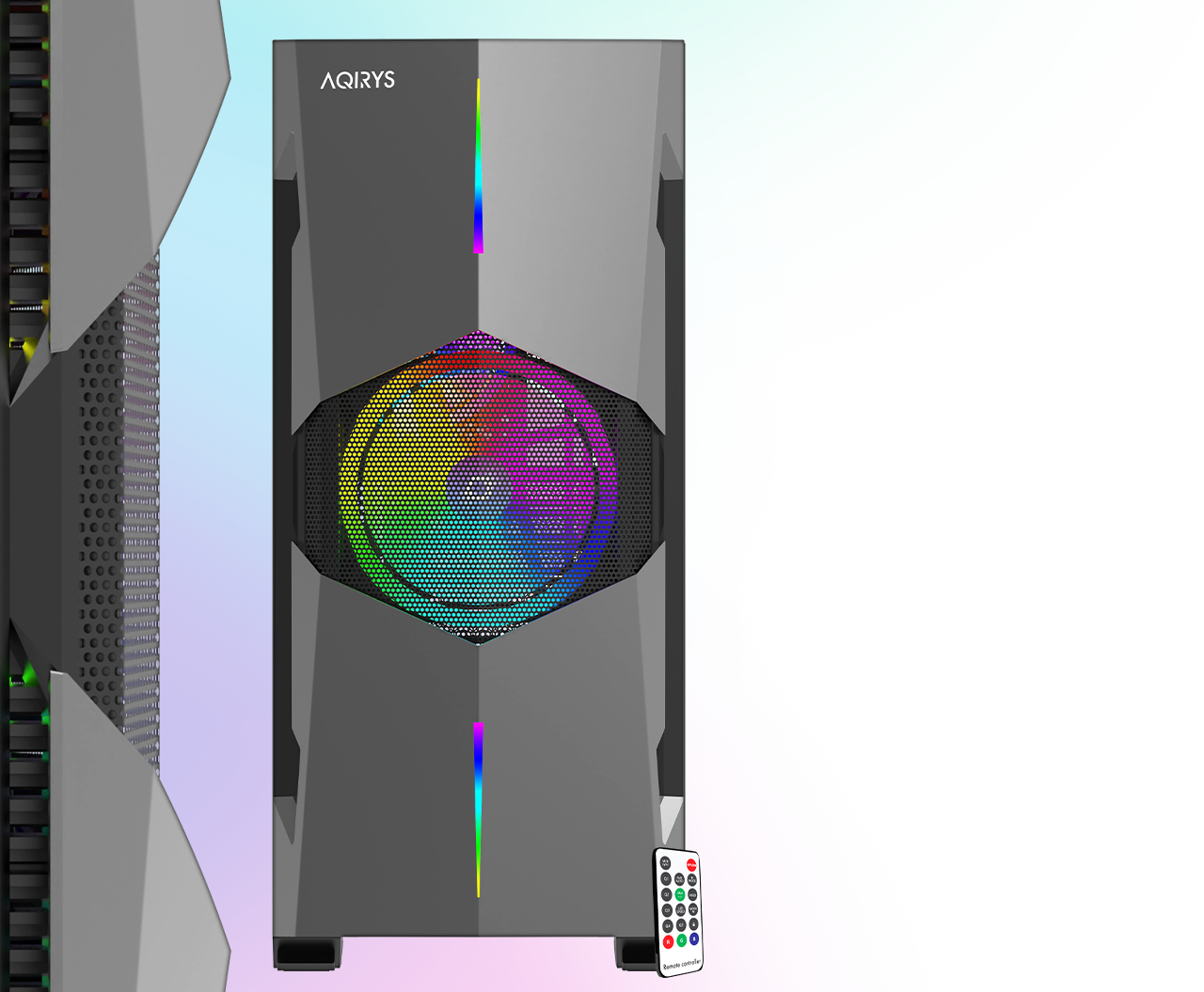 LIGHT-INFUSED AIRFLOW

All four fans pre-installed in BETELGEUSE use ARGB lighting and create excellent airflow to cool even the most demanding hardware. The dual air-intake design brings more fresh air inside the case, with everything being set in motion by one 140 mm front fan and two 120 mm side fans. Of course, you can always increase the cooling performance by adding extra fans, both 120 mm and 140 mm sizes – BETELGEUSE supports up to nine 120 mm fans!Matching or syncing the case illumination with the rest of the hardware can be done due to the included PWM+ARGB hub controller operated by a dedicated LED button and a wireless remote. The same controller and remote will help you adjust the fans speed when needed.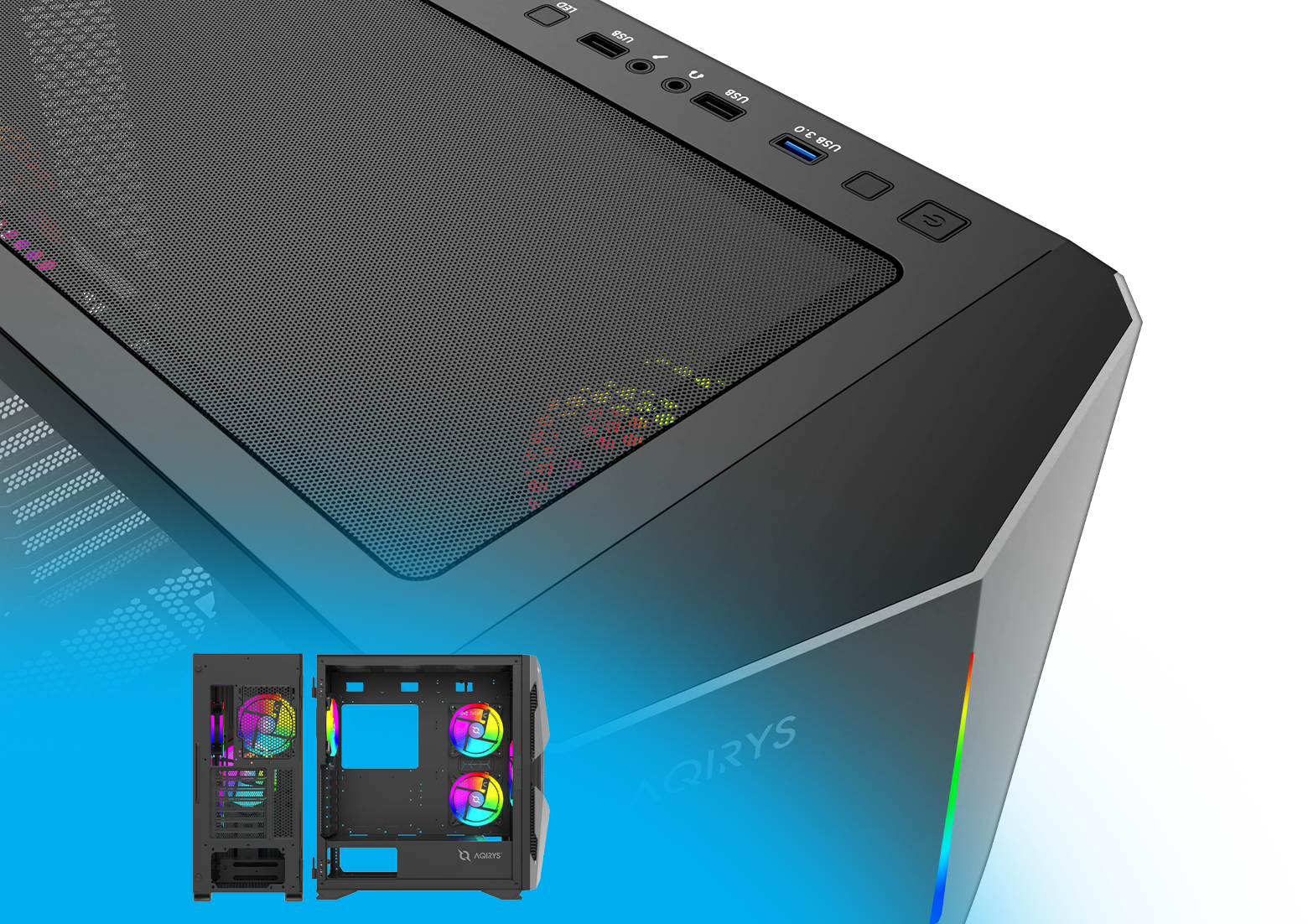 FULL-FLEDGED INTERIOR
The all-black interior of BETELGEUSE is dust-guarded by two magnetic filters placed on top and on the right-side panel inner. It can host a wide range of components like ATX motherboards, 370 mm long graphics cards, and 165 mm height CPU coolers. The dedicated chamber for bottom PSU installation is also protected by a removable dust filter and is assisted in reducing noise and vibrations by two anti-vibration rubber pads. Furthermore, the water cooling support is second to none, with enough space to install even 360 mm radiators in the front and on top for unlimited gaming performance. Lastly, discreet cable management openings and multiple hook-and-loop tapes ensure everything is kept neat and clean with no bulk of wires in your sight.
FUN FACTS

Betelgeuse is the second brightest star in Orion. Its English name comes from the Arabic language and means "the hand of Orion". Although Betelgeuse is actually colder than our sun, it is about 10,000 times brighter. The star may also have been referenced as the "shoulder of Orion" in the "Tears in the rain" monologue in Blade Runner (1982), but it is uncertain if the dying replicant meant the left shoulder (Bellatrix) or the right (Betelgeuse).
Case Specification
Case type
Midi Tower
Materials
Tempered Glass with hinge(left side panel), 0.7 mm SPCC steel, ABS
Motherboard support
Mini-ITX, Micro-ATX, ATX
PSU support
ATX, 175 mm maximum length (bottom installation)
VGA support
370 mm maximum length
CPU cooler support
165 mm maximum height
Liquid cooling support
Yes, (max 35mm thickness) Front mount - 120/240/280/360 mm, Top mount - 120/240/280/360 mm, Rear mount - 120 mm
Drive bays
2x 3.5", 2x 2.5"
Expansion slots
7
Front panel I/O
1x USB 3.0, 2x USB 2.0, HD Audio, LED button
Illumination
ARGB (included ARGB hub controller with PWM & RF remote)
Supported fans
9 pieces - Rear 1x 120 mm, Front 3x 120 mm or 3x 140 mm, Top 3x 120 mm or 2x 140 mm, Side
Installed fans
4 pieces - Rear 1x 120 mm (ARGB, no PWM), Front 1x 140 mm (ARGB, no PWM), Side 2x 120 mm (ARGB, no PWM)
Special features
removable magnetic dust filter, PSU chamber, cable management outlets
Dimensions (LxWxH)
475 x 216 x 488 mm
Weight
7780 g
Color
Black
EAN
5949161380475
Tags: Betelgeuse